Home – curated by Deanna Rodger (The Roundhouse Last Word Festival, 28/05/15)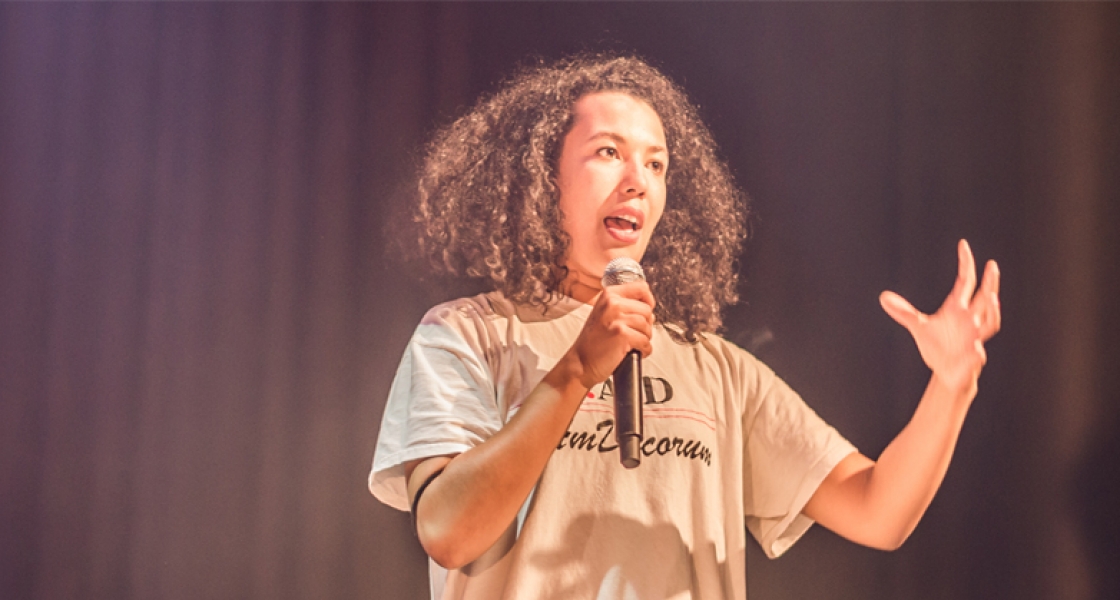 – reviewed by Lettie McKie –
The Hub
As part of the Last Word Festival of spoken word, the Roundhouse transformed one of their unique circular spaces into a comfy hub for informal performances and discussion. With sofas, soft lighting and projected video art installations, the hub was comfy and welcoming.
Deanna Rodger described the hub as her 'living room' inviting the audience to participate in an informal live Gogglebox event around the theme of Home. The evening included poetry and footage from Pete the Temp and Cardboard Citizens, as well as other snippets and performances including an appearance from Populace Theatre.
Pete the Temp's opening film and poetry performance was a call to arms to spoken word artists to use the art form as a medium for social change. The film explored the systemic problem of homelessness within our society, focusing on property ownership as one of the root causes of inequality; "There are people dying in the shadow of empty buildings".
Not your ordinary Gogglebox…
Unlike an evening lost forever in front of Channel 4's Gogglebox, there was no vegetation here. The event was contemplative and relaxed, but also challenging with incredibly emotive subject matter. Sadly there wasn't time for the planned Q&A at the end, but this was (at least in part) a good thing, allowing us to privately reflect on what we had heard and seen.
The event presented a series of diverse voices, both in person and on film, some of whom had experienced homelessness or vulnerable housing situations. One of the most resonant moments of the night was a performance by an older lady, Georgina, who had grown up in care. "I've still got sadness in me" she recited, reading a poem that described her longing to know a mother who she never met.
The huge amount of footage that was crammed into the hour included an interview with a lady who had lived for many years on a council estate and seen it slowly decline due to poor management. She described how a tight knit community had slowly broken down due to this neglect and how developers are keen to increase the attractiveness of the property to "a better class of people", her response was calm and witty; "You can't get a better class of people than us".
Deanna also presented her own short poetry film, London Landlords, where she asks landlords to consider their young tenants as human beings, not just as a source of income. Deanna's trademark energy and ability to capture an audience was put to good use in highlighting an issue that is clearly important to her.
Populist Theatre read the testimonies of mothers involved in one of the most controversial housing protests of recent years, the Carpenter's Estate occupation. By choosing to speak through the voices of those involved these talented actors showed a different side to a story well documented by the press, an accapella singing trio using verbatim dialogue being a highlight of the piece. They revealed that behind the sensationalised news items vilifying them as 'benefit scroungers' were a group of women desperate to keep their homes and their families from needless uprooting.
As the event came to an end our host left us with a question to mull over in the bar
"If you could reimagine home what would it look and feel like?"
The answers will be as the diverse as the people who need one but it is discussions like these that make you appreciate your own.